Buchanan, MI HVAC Services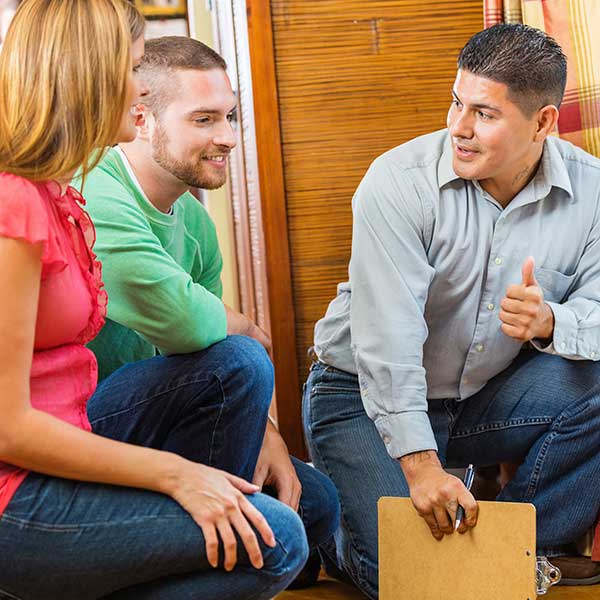 Heating & Cooling Services in Buchanan, MI
The team at Goff Heating and Air Conditioning has been built on a long-standing reputation of trust, experience, and quality furnace and air conditioning services in the Buchanan, MI area. Our HVAC contractors take pride in our work and strive to do our best for every customer who chooses us for ultimate home comfort and indoor air quality needs.
Honesty and integrity are core values that we hold so whether it is installing new equipment or servicing your existing equipment, our goal is complete customer satisfaction and quality service.
To really understand why so many local residents choose us for their heating, air conditioning, and indoor air quality needs, read what our valued and satisfied customers have to say!
Furnaces
At Goff Heating & Air Conditioning, we understand the central role your furnace plays in ensuring your home's comfort and warmth, especially during the cold months.
That's why we take pride in offering a comprehensive range of furnace services designed to keep your heating system operating at its best. Whether you need routine maintenance, expert repairs, or a new furnace installation, our dedicated team is here to provide you with outstanding service and peace of mind.
Whether you need to service existing equipment or upgrade to a new furnace we are available in Buchanan, MI to serve your heating needs.
Furnace Installation
If you are in need of a new energy-efficient furnace, schedule a consultation appointment with one of our comfort specialists to receive a free estimate.
During your appointment, our team can discuss all your options to provide a tailored, high-quality solution. We create a customized plan to replace your old furnace based on your unique home and comfort needs.
Furnace Repair
Our goal is to provide you with 24-hour peace-of-mind repair service. As licensed contractors and specialists in the field of heating, we have the tools, the equipment, and the experience to keep your equipment running smoothly all year long.
If your furnace is not performing to your expectations or you are experiencing issues that need reliable and professional expertise, we can help.
If it is an emergency service that you need, we are available to assist you, 24 hours a day, 7 days a week. Give us a phone call or contact us online to get started.
Furnace Maintenance
Goff Heating & Air Conditioning's furnace maintenance services are tailored to ensure your heating system operates at peak efficiency, saving you both energy and money. Our certified technicians service, clean, and inspect your HVAC system to extend your furnace's lifespan and keep your home comfortably warm throughout the seasons.
To help reduce service emergencies, we offer GoffCare annual maintenance membership to keep your comfort system running at peak performance.
Boilers
A reliable boiler is the heart of your home's heating system, providing warmth and comfort during even the coldest winter days. Our expert boiler services encompass everything you need to keep your heating system in optimal condition, from installation and repair to preventive maintenance.
Boiler Installation
We work closely with you to assess your home's unique heating requirements and offer a selection of high-quality boilers to choose from. Our certified technicians then install your chosen boiler replacement with precision and care, ensuring it integrates seamlessly into your home. With Goff, you can trust that your new boiler will deliver reliable, energy-efficient performance for years to come.
Boiler Repair
When your boiler shows signs of wear and tear, our experienced technicians are ready to step in and provide prompt, reliable boiler repair services. We understand the urgency of restoring your heating system to full functionality, especially during cold snaps.
Our team's swift response, coupled with their deep knowledge of various boiler makes and models, guarantees efficient and lasting repairs.
Boiler Maintenance
Regular boiler maintenance is key to preventing unexpected breakdowns, improving efficiency, and prolonging the lifespan of your heating system. Goff Heating & Air Conditioning offers comprehensive boiler maintenance services to keep your equipment in prime condition.
With our scheduled maintenance plans, you can have peace of mind, knowing that your boiler will continue to provide consistent warmth throughout the seasons, while saving you money on energy costs.
Air Conditioning
The team at Goff Heating and Air Conditioning is ready to serve your cooling needs with expert air conditioning services in Buchanan, MI. From the new installation to annual maintenance services and everything in between, we are here to serve you with honesty, quality workmanship, and respect.
Air Conditioning Installation
Whether you're replacing an existing air conditioner or installing one in a newly built home, give our comfort specialists a call to schedule a free consultation. During our consultation, we will discuss options for the best solution for your heating and air conditioning needs. We create a customized plan based on your unique home and comfort needs.
Air Conditioning Repair
If you are in need of repair, we are a local air conditioning contractor that is fully equipped to fix and service air conditioner problems in Buchanan, MI.  We offer 24/7 emergency air conditioning service to tackle unexpected air conditioner breakdowns whenever they occur.
Air Conditioning Maintenance
Goff Heating & Air Conditioning's air conditioning maintenance service is a crucial component of keeping your cooling system running efficiently and reliably. Our skilled technicians perform meticulous inspections, cleanings, and adjustments to ensure your air conditioner operates at peak performance, providing you with optimal comfort and energy savings throughout the hottest months of the year.
Join our Goff Care annual maintenance membership for regular maintenance services performed by a qualified air conditioning contractor.
Heat Pumps
Heat pumps are a great HVAC unit for your home because they work to provide both heating & air conditioning. Heat pumps are a very efficient alternative to electric heat. A heat pump works the same as an air conditioner in the summer, but it runs in reverse in the winter to heat your home.
The system will be matched with a backup heating source, most often electric heat for those extremely cold days of winter.
Goff Heating & Air Conditioning provides heat pump services throughout the Buchanan, MI area.
Heat Pump Installation: Goff Heating & Air Conditioning excels in heat pump installation, tailoring systems to meet your specific heating and cooling needs. Our certified technicians carefully assess your property to select the right HVAC system and ensure seamless installation of your new unit, delivering energy-efficient climate control for year-round comfort.
Heat Pump Repair: When your heat pump needs attention, our experienced team is ready to provide swift and effective repair services. Goff's technicians have the expertise to diagnose and resolve issues, ensuring your system runs smoothly, maintains efficiency, and keeps your indoor environment comfortable.
Heat Pump Maintenance: Regular maintenance is essential for optimal performance. Goff Heating & Air Conditioning offers comprehensive maintenance services that include thorough inspections, cleaning, and calibration to keep your heat pump operating efficiently and extend its lifespan, ultimately saving you energy costs and ensuring year-round comfort in your home.
Ductless Systems
If a room is too hot or too cold, a ductless or mini-split system can handle it! Ductless split-zoning systems are specifically designed to improve the comfort level in an uncomfortably hot or cold room of an existing building.
Because they don't require ductwork, they're the perfect heating and cooling systems for renovating older buildings that were constructed before air conditioning was available – even those with plaster walls and brick facades.
The versatility and variety of applications for ductless systems are virtually unlimited. They're an excellent choice for almost any spot cooling or heating situation, including enclosed sunrooms, upstairs bedrooms, classrooms, hospitals, nursing homes, restaurants, hotels, workout rooms, computer rooms, offices, and churches.
Goff Heating & Air Conditioning is experienced with the install and service of ductless systems from Mitsubishi and Bryant. Schedule your free consultation in Buchanan, MI today!
Indoor Air Quality
Your home should be your safe place, but is your indoor air dangerous to your health? We offer a variety of indoor air quality products, each of which targets and combats numerous indoor air pollutants. Our indoor air quality products will help you maintain a clean and healthy indoor air environment, creating a safe haven for your family.
Air purifier installation provides homes with state-of-the-art filtration technology to eliminate airborne pollutants, allergens, and contaminants, ensuring clean and healthy indoor air.
Carbon monoxide detector installation offers peace of mind by continuously monitoring and alerting you to any potential carbon monoxide leaks, safeguarding your family from this odorless, deadly gas.
Dehumidifiers are installed with your furnace and air conditioning unit, reducing excess moisture levels to prevent mold and mildew growth, while enhancing indoor comfort and overall air quality.
Duct cleaning service ensures your HVAC system's ductwork is professionally cleaned, removing accumulated dust, allergens, and contaminants, promoting cleaner and healthier air circulation throughout your home.
Humidifiers maintain ideal humidity levels, preventing dryness and discomfort while significantly improving indoor air quality.
Media air cleaners are a type of air filtration system that captures and removes a wide range of particles, pollutants, and allergens, ensuring your indoor environment is free from harmful airborne contaminants.
Thermostats offer precise temperature control to maximize energy efficiency in your home. We offer installation and service for a range of smart and programmable thermostat options.
UV air cleaners utilize UV-C technology to effectively eliminate bacteria, viruses, and mold in your indoor air, providing a cleaner and healthier living environment.
UV lights are installed within your HVAC system to continuously disinfect the air, preventing microbial growth and ensuring your indoor air quality remains at its best.
Contact Us for Heating and Air Conditioning Service in Buchanan, MI
In Buchanan, MI, Goff Heating & Air Conditioning is your trusted partner for all your heating and cooling needs. With our commitment to quality, expertise, and customer satisfaction, we ensure that your home remains a haven of comfort in every season.
Don't wait to experience the Goff difference – whether it's heating installation, air conditioning repair, indoor air quality solutions, or any other HVAC service, we're here to serve you.
Contact us today to schedule your next service and discover the unmatched excellence of Goff Heating & Air Conditioning. Your comfort is our business!