Air Conditioning Installation in Elkhart, IN
Was your air conditioning system hanging on for dear life last summer? If so, consider installing a new air conditioner in your Elkhart, IN home. A new AC unit provides more even, powerful cooling and can significantly reduce the chance of an untimely breakdown on one of the hottest days of the year.
When you need a new air conditioner installed, you require the assistance of an HVAC company you can trust for timely, professional, and expert installation service. That's where Goff Heating & Air Conditioning comes in. For more than 80 years, we've proudly served the Michiana area with dependable AC services, including air conditioning replacement and installation. Contact us today to schedule an appointment in Elkhart, IN.
For a FREE in-home consultation with one of our HVAC specialists or schedule an appointment online today!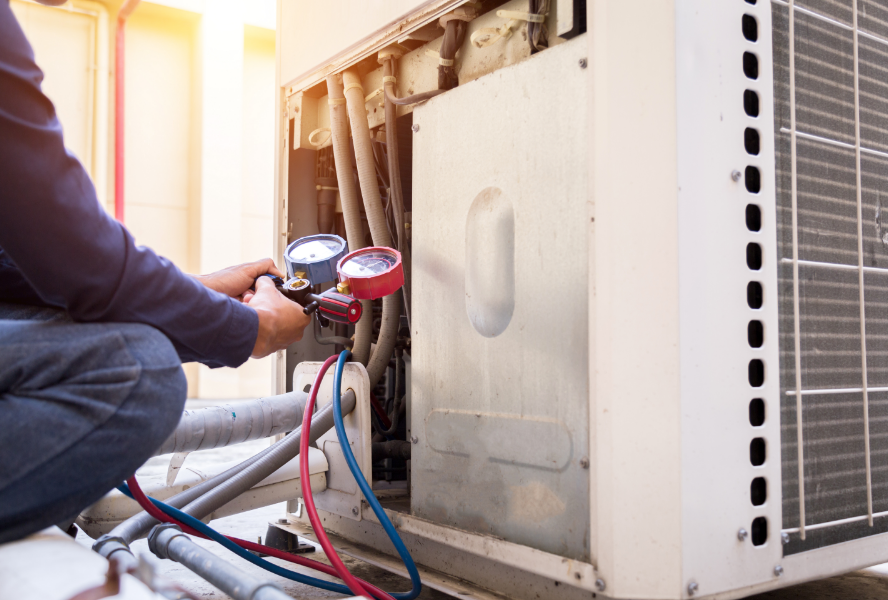 Signs You May Need a New Air Conditioner
Knowing when to replace your existing air conditioner can be a difficult decision, especially if it's still running, albeit inefficiently. Here are a few signs that indicate it may be time for an upgrade.
Old Age
How old is your current air conditioner? Well-maintained air conditioners generally have a lifespan of 15-20 years. Once air conditioners reach this age, they are more likely to cost more to run and prone to breakdowns. This makes AC installation beneficial as both a preventative measure as well as a way to lower your energy bills and provide your Elkhart, IN home with more efficient cooling.
High Energy Bills
If you notice a sudden increase in your monthly energy bills without any corresponding heat wave, a new air conditioner may be in order. Although a significant financial investment, a new air conditioner will help recoup some of the installation costs through lower energy bills. If your system is over 10 years old, beginning to plan for eventual air conditioner replacement is wise. This starts by monitoring your energy usage each month. 
Frequent Repairs
It doesn't make sense to continuously repair your air conditioner, especially if it is older. Air conditioning repairs can be expensive, so consider putting the repair money toward the purchase of a new, reliable cooling system. A single repair is common but frequent issues deserve a second opinion. Goff Heating & Air Conditioning technicians provide complete inspections and expert recommendations.
Poor Performance
If your home isn't as comfortable as it once was, the air conditioner unit may be wearing down. Signs of poor performance can be felt throughout your home in the form of hot and cold spots. You can often hear and feel that your system takes longer to reach the desired temperature. This is another indication that you need some maintenance, a repair or possibly an upgrade. If any of these issues are present, contact Goff Heating & Air Conditioning for AC installation in Elkhart, IN.
Strange Noises
You become accustomed to the gentle hum of your air conditioner running a cycle. Loud or strange noises shouldn't be present. Rattling or banging noises, for example, could indicate a loose or broken part, and it may be time for a new system. Aberrations from the outdoor AC unit or the indoor air handler should be addressed promptly.
Poor Indoor Air Quality
If there's an increase in allergy or respiratory issues among family members, your air conditioner may not be providing adequate air filtration. A stuffy home, meanwhile, signals your air conditioner is struggling to keep humidity levels in check. Both issues could signal an aging and inefficient system that needs to be replaced.
Finance Your New Air Conditioner with Goff Heating & Air Conditioning
If you require a new air conditioning system, your first question might be how you're going to pay for it. Since most homeowners don't have the money to fully pay for a new system, Goff Heating & Air Conditioning has teamed up with Wells Fargo to offer convenient financing options with approved credit. Instead of paying for the system in one lump sum, you can spread the cost out into monthly payments that work with your budget. Contact us today to learn more about our financing options.
Enroll in Our GoffCare Maintenance Membership
The best way to keep your new air conditioner humming along all summer with no issues or breakdowns is by having regular maintenance performed. During a spring tune up, a technician will clean, calibrate, and inspect all necessary components to ensure proper operation. They'll also look out for minor issues and recommend any needed repairs before they grow into larger, more expensive issues. When you enroll in our GoffCare Maintenance Membership, you'll receive two HVAC tune ups per year, priority emergency services, discounts on parts and labor, and so much more!
Contact Goff Heating & Air Conditioning for AC Installation in Elkhart, IN
Installing a new air conditioner is a big decision, so let the certified HVAC technicians at Goff Heating & Air Conditioning help. As a Bryant Factory Authorized Dealer, we're proud to offer the most efficient, reliable air conditioners on the market. To schedule air conditioning installation in Elkhart, IN, contact Goff Heating & Air Conditioning today.