HEATING AND AIR CONDITIONING REPAIR SERVICE
Peace-of-Mind Repair Service
For 84 years, Goff Heating and Air Conditioning has served the Michiana area with excellence, quality workmanship, and experience. Our goal is to provide you with 24-hour peace-of-mind repair service. As licensed contractors and specialists in the field of heating and air-conditioning, we have the tools, the equipment, and the experience to keep your equipment running smoothly all year long.
Are you experiencing…
No heat or cool air?
Loud or abnormal noises?
Water outside the furnace?
Blower motor not working?
Do you need regular twice-yearly service?
If your heating or cooling unit is not performing to your expectations or you are experiencing any of the issues above, we can help. You need that need reliable and professional expertise that Goff Heating and Air Conditioning provides.
If it is emergency service that you need, we are available to assist you, 24 hours a day, 7 days a week. Call us today at (574) 285-2875.
Our team of HVAC professionals are knowledgable and experienced. We have made repairs on a variety of heating and cooling equipment in our 84-years. When our professionals come to your home or business we will assess and diagnose the problem and then will discuss a service plan to meet your heating or air conditioning needs.
To help reduce those service emergencies, we offer service agreements to keep your comfort system running at peak performance.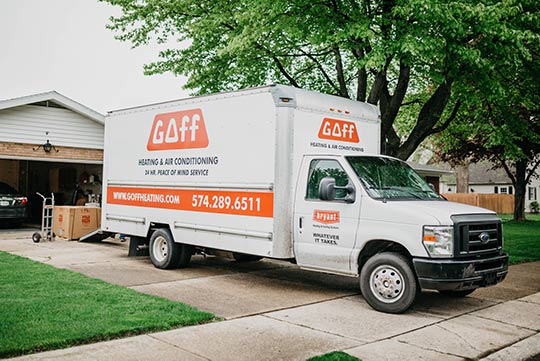 Emergency Repair Service Hotline: