Are you still operating your heating and cooling system using an old-fashioned, round-dial manual thermostat? If so, take a step into the future by upgrading to a new programmable or smart thermostat. New thermostats allow you more control over your HVAC system, leading to increased efficiency and lower energy costs. Often the cost of installing a smart thermostat or a programmable thermostat is offset by the monthly energy savings.
Goff Heating & Air Conditioning can provide you with several thermostat options and install the one of your choosing. For all of your South Bend, IN home's HVAC and indoor air quality needs, including thermostat installation, contact Goff Heating & Air Conditioning today.
For a FREE in-home consultation with one of our HVAC specialists or schedule an appointment online today!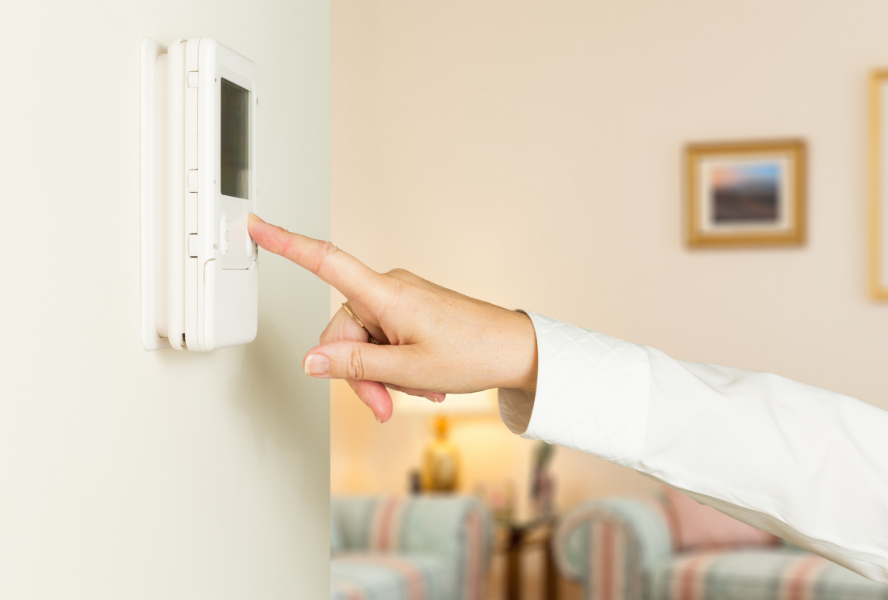 Signs You Need a New Thermostat
If your current thermostat is exhibiting any of the following signs, contact us for thermostat repair or installation service:
Incorrect Readings
Does your home feel colder or warmer than the temperature displayed on your thermostat? If your thermostat is displaying the wrong temperature or it's struggling to maintain a consistent temperature, it may be time for an upgrade. Temperature fluctuations are a common sign that a thermostat is failing.
HVAC System Failures
If your HVAC system is turning on and off too frequently – or not turning on at all – it could be due to a faulty thermostat that needs to be replaced.
Rise in Energy Bills
A faulty thermostat can cause your HVAC system to turn on when it shouldn't, resulting in higher energy costs.
Old Age
Older thermostats typically have a lifespan of about 10 years. After that, they are more prone to issues that can lead to repair or replacement. Updating your current thermostat also provides you with access to the latest technology, including Wi-Fi capabilities and the ability to pre-set the temperature according to your schedule.
Unresponsive Controls
If the buttons or controls on your thermostat are difficult to use or stop working altogether, it's definitely time to consider a thermostat replacement service.
Types of Thermostats Goff Installs
You don't need to wait for a thermostat to malfunction to enjoy the benefits of a new device. Modern thermostats help your system run more smoothly and provide you with more direct control than manual systems.
Programmable Thermostats
Programmable thermostats are a big step up from outdated manual models. With a programmable thermostat, you can pre-set the temperature based on the day of the week and time of the day. For example, if you're at work from 9 to 5 during the weekday, you can pre-set the thermostat to a higher setting during the summer for increased energy savings. You can program the programmable thermostat to set the preferred temperatures by the time you arrive home in the evening and all day on weekends.
Wi-Fi Thermostats
Goff Heating & Air Conditioning offers Wi-Fi thermostats, including the highly rated Bryant Connex and the Ecobee models. As their name suggests, Wi-Fi thermostats can be conveniently controlled remotely using your smartphone or smart device – from your couch, office, or anywhere in the world through your home's Wi-Fi connection.
Smart Thermostats
Smart thermostats also allow users to pre-set the temperature, and they can be controlled from your smartphone. But they offer another level of convenience and efficiency. Smart thermostats can make automatic adjustments based on your home's energy use, the changing weather, and your personal preferences. They can save homeowners a significant amount of money on their monthly heating and cooling costs.
Contact Goff Heating & Air Conditioning for Thermostat Installation in South Bend, IN
Once you install a Wi-Fi or smart thermostat in your South Bend or Mishawaka, IN home, you'll wonder how you ever lived without one. They are extremely convenient and efficient. To learn more about our thermostat offerings or to schedule an appointment for installation, contact Goff Heating & Air Conditioning today.