South Bend, Indiana Air Conditioning Tune Up
We know temperatures in South Bend, IN, can go up and down like a Yo-Yo. Winters are cold and snowy and summers can be downright hot and humid. During the summer months in South Bend, you need a reliable air conditioning system to keep you and your family cool, comfortable, and safe.
Your AC system needs regular maintenance services to keep it running correctly. Many homeowners might forget to schedule air conditioning tune-ups, or they might not understand just how important they are for maintaining your cooling system's overall health.
Goff Heating & Air Conditioning is here to help. Our professional HVAC technicians offer air conditioning tune-up services for homeowners in South Bend, Mishawaka, Granger, and the surrounding area to help keep them comfortably cool throughout the summer. If you can't recall the last time you had air conditioning maintenance done – or it's been over a year – now is a great time to schedule an appointment.
For a FREE in-home consultation with one of our HVAC specialists or schedule an appointment online today!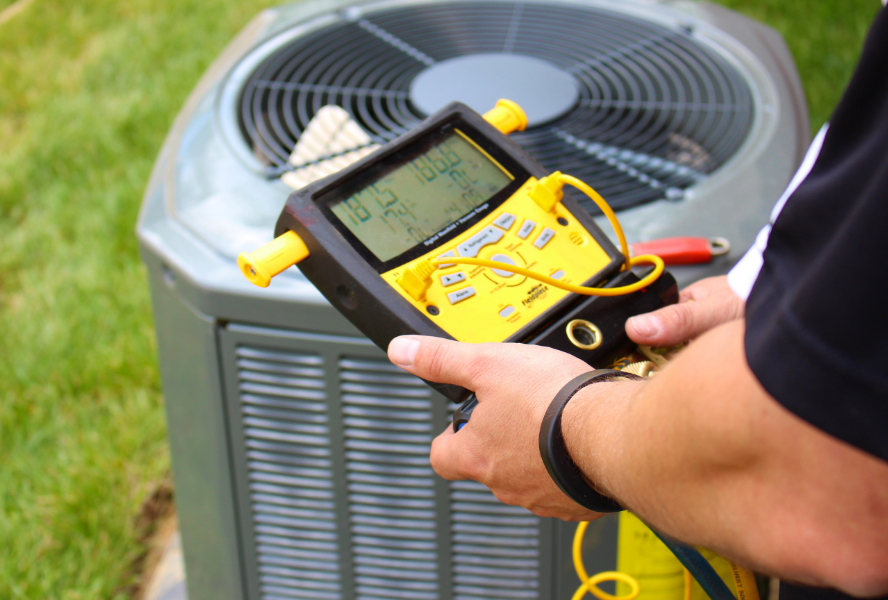 Why Do Air Conditioning Systems Need Maintenance?
Many homeowners assume that when their air conditioners aren't experiencing any issues, they don't need to provide them with services. In reality, this is not the case. Just like any other machine, regular maintenance on your cooling system is critical. Just as you take your car to the shop for an oil change and tire rotation, your AC also needs regular care.
We recommend AC maintenance once a year. That way our technicians can clean and check necessary components and make a note of any minor issues that may need to be repaired.
What's Included in an Air Conditioner Maintenance Checklist?
During air conditioner maintenance, professional HVAC technicians from Goff Heating & Air Conditioning perform a wide variety of tasks, including:
Cleaning the condenser coil

Inspecting the evaporator coil, if accessible

Cleaning the condensate drain

Cleaning the blower motor

Inspecting the filtration system

Adjusting blower components

Inspecting for refrigerant leaks

Testing the condensate pump

Tightening electrical connections

Testing starting capabilities

Measuring the air temperature differential

Monitoring refrigerant pressure

Measuring amperage and voltage
Depending on the exact type of system you own, we may perform additional services on your air conditioner. We have a tremendous amount of experience working with different types of air conditioners, and we'll use this experience to help you.
The Benefits of Tuning Up Your AC Unit
There are several reasons why an air conditioner tune-up is essential each spring. From saving money to staying comfortable all summer long, the sooner you schedule your maintenance service, the sooner you'll experience the many benefits including:
Reduced Energy Bills
When your air conditioner seems to be constantly running but is not properly cooling your home, it could signal a need for maintenance. Contact the experienced technicians at Goff to inspect your unit to see if a tune-up or repair is needed.
Fewer Breakdowns
It's never normal for your air conditioner to constantly break down. It's costly and stressful to repeatedly call HVAC companies for repair services. It's best to get professional service to ensure your cooling system continues to function properly and reduce breakdowns.
Improved Comfort
One of the most common issues with an air conditioning system is blowing out hot air. This can be due to a variety of reasons, including a frozen evaporator coil or a dirty air filter. If your system breaks or blows out hot air, these can all make your summer incredibly unbearable. With proper air conditioning maintenance, you can make sure your air conditioning system works well throughout the entire season. 
Increased System Lifespan
Air conditioners have a lifespan of about 15 to 20 years. However, certain factors can lower that life expectancy. This includes a lack of annual tune-ups, ignoring repairs, living in a hot environment, and more. To help increase your system's lifespan, contact Goff Heating & Air Conditioning for AC maintenance.
Protect Warranty Coverage
Many manufacturers' warranties for HVAC equipment require that regular maintenance be performed. Missing out on these important maintenance services could result in voiding your warranty, making repairs much more expensive throughout your air conditioner's life. 
Enjoy Special Savings With a GoffCare Maintenance Membership
A small annual investment in air conditioning maintenance has been proven to save money and repair costs, prevent major system breakdowns, and elongate your AC system's lifespan. Learn more about our GoffCare Maintenance Membership, and enjoy even more benefits like priority emergency services and discounts on parts and labor.
Contact Goff Heating & Air Conditioning for AC Maintenance in South Bend, IN
Goff Heating & Air Conditioning serves the community of greater South Bend and the surrounding area with high-quality service. When you contact our friendly staff, you'll quickly learn that we are experts in the HVAC industry and committed to our customers' safety and comfort. We stay on the cutting edge of home comfort solutions, and we know the needs of homes in South Bend better than anyone. 
Our focus is on building trusting relationships with our loyal customers. South Bend is our home, and we believe that our wonderful community deserves nothing but the best. Contact Goff Heating & Air Conditioning for an air conditioning tune-up in South Bend, Indiana.