South Bend, IN

Commercial HVAC Services
If you own or operate a small business, office, or church, the last thing you want is for your commercial heating and cooling system to fail on one of the coldest or hottest days of the year. Not only will this create an uncomfortable – and, potentially unsafe – environment for your employees, but your customers will run for the hills.
Fortunately, Goff Heating & Air Conditioning is here to serve all your light commercial HVAC application needs. We are a company committed to excellence in every aspect, from installation to service to customer care. Call us and let us take care of all your commercial HVAC needs.
For a FREE in-home consultation with one of our HVAC specialists or schedule an appointment online today!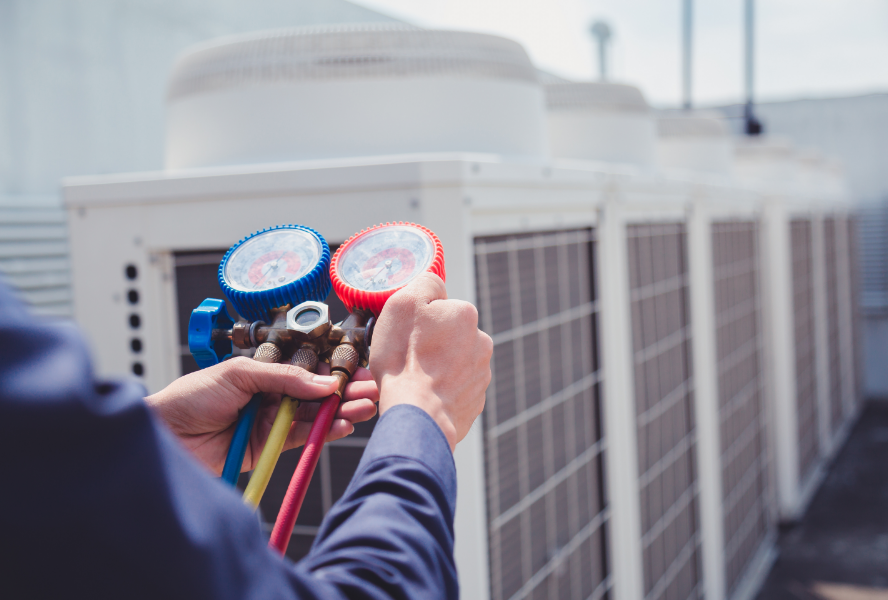 Types of Commercial HVAC Systems Goff Heating & Air Conditioning Installs
We are experienced in the installation and servicing of all types of commercial HVAC equipment, including:
Rooftop Units
Rooftop HVAC units are found primarily in commercial businesses, although some are used for residential homes. As their name suggests, these box-shaped HVAC systems sit on the roofs of businesses to save space.
Rooftop HVAC systems are a type of packaged unit, which means all of the heating and cooling equipment is housed in one metal cabinet. Unlike most HVAC systems, rooftop units do not contain indoor and outdoor units. These units connect directly with the building ventilation system to provide conditioned air inside spaces.
Some of the benefits of rooftop units include:
Increased security because the unit is located on the rooftop, not on the ground next to the building.

Reduced noise. There are no components located inside the building that can disturb employees and customers.

Saves space because all of the HVAC equipment is located in a compact box.

Split Systems
While a rooftop HVAC unit stores all of its components in one cabinet, a commercial HVAC split system has an outdoor cabinet and an indoor cabinet that hold various HVAC components. The outdoor cabinet, typically located on the rooftop, contains the compressor, fan, and condenser coil. The indoor cabinet is generally located in a utility room or basement and contains the evaporator coil, air handler, blower, and dampers. It hooks into the system's ventilation system to distribute conditioned air throughout the building.
Depending on the size of the commercial building, we may recommend a single-split system or a multi-split system. Single-split HVAC systems consist of one compressor and one evaporator and are ideal for small buildings, including restaurants, small offices, and smaller retail businesses. A multi-split system, meanwhile, consists of two or more evaporators for one compressor. Multi-split systems are ideal for larger buildings with several floors.
Commercial Boilers
Some people might assume boilers are old-fashioned or outdated. This is the furthest thing from the truth. Boilers are an incredibly efficient way to heat commercial buildings, as well as residential homes. Instead of using a series of ducts to transport heated air to work spaces, boilers heat water to generate warmth and use pipes and radiators to distribute heat.
Some of the benefits of switching to a commercial boiler system include:
A longer lifespan. Boilers can last for 30 or more years.

Increased efficiency. Boilers use less energy by heating water and not air. With a boiler system, you do not have to worry about leaky air ducts.

Even heat distribution. Because boilers radiate heat, the heat is evenly distributed across the building, providing a more comfortable environment.

Reduced allergens. Without the use of ducts, commercial boilers are not pushing mold spores, dust, pet dander, and other allergens into the office or retail spaces.
Temp Control Systems
Temperature control systems are ideal for large buildings such as warehouses and manufacturing facilities. HVAC control systems automatically control the temperature and humidity of the building to ensure a more comfortable environment. To learn more about temp control systems and whether one might be right for your commercial facility, contact Goff Heating & Air Conditioning.
Commercial HVAC Maintenance and Repair Service
HVAC Maintenance
Just like residential HVAC systems, commercial units should be serviced twice a year, preferably in the fall and spring. During maintenance visits, an HVAC technician will clean necessary components, make any adjustments and recommend any minor repairs that need to be made. Regular commercial HVAC maintenance is the best way to prevent untimely breakdowns that cause your business to come to a complete halt.
We understand that running a business takes a lot of work, and maintaining your HVAC equipment might not always be top of mind. Let Goff Heating & Air Conditioning help. By enrolling in our GoffCare Maintenance Membership, you'll receive bi-annual or quarterly HVAC maintenance services to ensure your light commercial HVAC equipment runs efficiently year-round. Aside from regular tune-ups, you'll also receive discounts on parts and labor, 24-hour priority service, and a 30-day labor warranty.
HVAC Repairs
If your commercial heating and cooling systems are in need of repair, don't wait. The longer you put off making a repair, the more serious and expensive the issue can become. Oftentimes, a simple repair is all that's needed to return HVAC systems to good working order.
If you notice any of the following signs, give the NATE-certified technicians at Goff Heating & Air Conditioning a call.
Rising energy bills.

Unpleasant odors or strange smells.

Short cycling.

Uneven temperatures.

Poor air quality.
Contact Goff Heating & Air Conditioning for Commercial HVAC Service
Whether you need to replace an existing commercial HVAC system or you need to install one for a new construction job, you can count on the experienced technicians at Goff Heating & Air Conditioning to get the job done right. For all of your commercial HVAC maintenance, repair, or installation needs, contact us today to schedule an appointment.