Heat Pump Repair in South Bend, IN
Goff Heating & Air Conditioning is a leading provider of heat pump repairs, tune-ups, and installations throughout the South Bend and Michiana areas. Heat pumps provide your home with both heating and cooling services, and they don't use natural gas to create heat energy. This combination of multiple functionality and energy efficiency is why so many homeowners are switching to heat pumps.
Even with these benefits, heat pumps are still prone to breakdowns, so when it comes time for your heat pump to be repaired, get in touch with the HVAC company that South Bend has trusted since 1937. Count on Goff Heating & Air Conditioning for your heat pump repair services.
For a FREE in-home consultation with one of our HVAC specialists or schedule an appointment online today!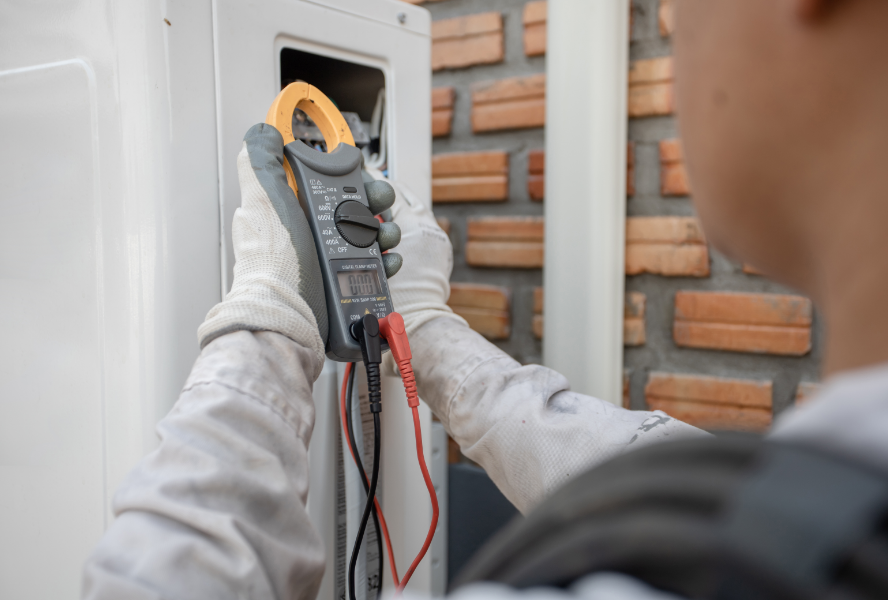 Signs Your Heat Pump Needs Repairs
Issues with heat pumps don't go away on their own, and ignoring them for too long can cause worse issues to develop. If you notice any of the following problems, call Goff for heat pump repairs right away. 
Rising Energy Costs
A heat pump is incredibly efficient when working properly, but when something is broken it has to use more energy to effectively heat or cool your home. This will be reflected in your utility bills. 
Not Reaching the Thermostat's Setting
If the temperature in your home does not match the temperature you set on your thermostat, it could signal an issue with your heat pump. Make sure your thermostat is set to the correct mode, and if it still can't reach your desired temperature, give the HVAC professionals at Goff a call.
Making Strange Noises
Banging, rattling, hissing, whooshing, or buzzing noises coming from your heat pump are reasons to be concerned. Many times, noises indicate loose parts or connections. Turn off your heat pump to prevent further damage, and then call an HVAC professional to investigate further.
Emitting Strong Odors
Does your home smell like a gym locker room? This odor is often a sign of mold growing on your evaporator cables or within your home's ducts. Fish, burning, or sewage odors can indicate big problems like a gas leak or a mechanical issue. 
Won't Turn On
When air filters become clogged with dust, pet hair, debris, and other contaminants, they can prevent fresh air from flowing into your system. If your heat pump won't turn on and you can't remember the last time you changed your air filter, try that first. You can buy most air filters at your local hardware store. If you've changed the air filter and your unit still won't kick on, then call the professional HVAC technicians at Goff.
Benefits of Heat Pump Repair Services
As soon as you notice any of the above problems, the best thing you can do for your family's safety and comfort is to get in touch with a trusted HVAC company. Here are some benefits to prompt repairs on heat pumps:
Energy Savings:

A broken heat pump will use more energy which will lead to higher bills

 
Air Quality Improvement:

By replacing and cleaning dirty air filters, you remove contaminants from circulating in the air

Extended Life Expectancy:

When you have repairs done quickly, you can avoid extensive damage or worse, resulting in higher repair bills
Avoid Frequent Repairs With Regular Heat Pump Maintenance
Most repair calls we get are avoidable with regular preventative maintenance. With the GoffCare Maintenance Membership package, you can prevent small problems from becoming bigger problems and ensure optimal performance for your comfort system. This package comes with Goff's peace-of-mind service and support, as well as priority service and discounts on replacement parts and labor.
Why Choose Goff Heating & Air Conditioning for South Bend Area Heat Pump Repairs?
In Indiana, you have many choices of who to call to repair, maintain and install your HVAC systems. At Goff Heating & Air Conditioning, we work on the foundation of value, integrity and reliability. Since 1937, our company has served the South Bend community. Beyond our expertise and dedication to our craft, we understand the needs and concerns of the Michiana area. Contact us today to schedule an appointment!