Boiler Installation in South Bend, Indiana
South Bend and Michiana winters can be brutal, but luckily Goff Heating and Air Conditioning has the skills and experience to provide your family with a full slate of heating and comfort options including boiler installation. Boilers have been around since the 1800s, but they are still widely seen as one of the most energy-efficient home heating methods. If you're interested in bringing this tried and tested technology into your home or need an already existing boiler system replaced, read on to learn how Goff can help bring comfort to everyday moments.
For a FREE in-home consultation with one of our HVAC specialists or schedule an appointment online today!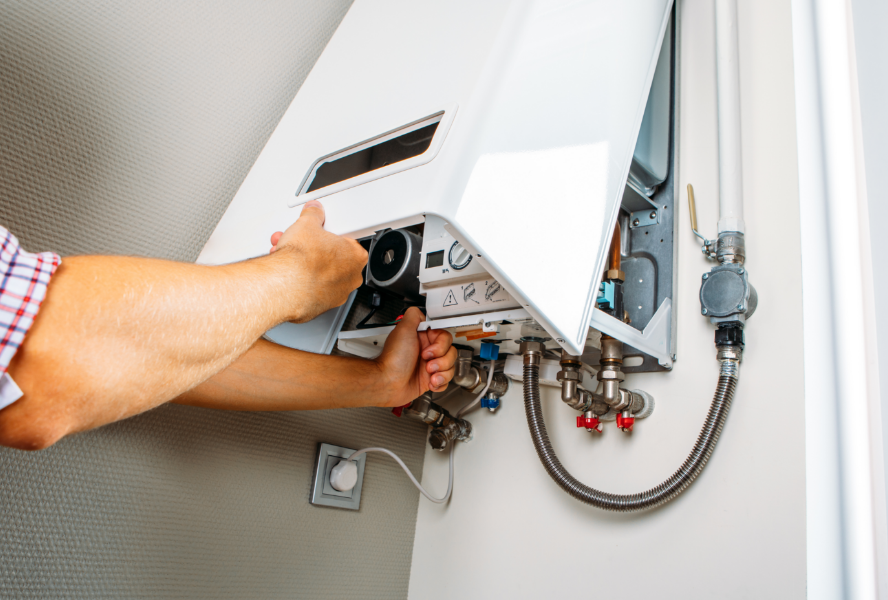 Boilers Vs. Furnaces
What is the difference between a boiler and a furnace – and which one is right for your South Bend home? A furnace heats the air in your home, while a boiler heats the water. 
When a furnace heats air and disperses it with a fan through ducts and pipes, it can make the air dry and more likely to carry allergens like dust and dirt. 
Boilers heat water into steam that generates warmth through pipes that radiate in your home. The boiler's radiant heat is gentle and more comfortable. Also, indoor air quality tends to be better with a boiler or radiant heating system. 
Benefits That Come with Boiler Installation
Goff Heating and Air Conditioning has the experience to install boiler systems in new homes or repair or replace the boiler in an older home. The benefits of going with a boiler for heating include:
Increased Energy Efficiency
Boilers use less energy because they heat water, not air. 
Longer Lifespan
While many industry specialists suggest replacing a boiler every decade, some boilers run perfectly for 30 or more years. 
Fewer Allergens 
Since boilers do not heat air or use ducts, they are not pushing dust, pet dander, mold or mildew spores, or other allergens into your home's living spaces.
Even Heat Distribution
Because boilers radiate heat, heat is evenly distributed, especially when using a boiler for radiant flooring. They are excellent for new homes or businesses because you can use them for heated floor systems. 
Signs that Your Boiler Needs to Be Replaced
The above benefits are probably not news to those who already have boiler systems of their own. But, if you do have an older system that is starting to show signs of aging, here are a few clues that you're in need of a boiler replacement:
Your boiler requires frequent repairs

Your boiler fails to warm your home completely

Your boiler is over 15 years old and is showing signs of breaking down

Your energy costs keep going up while your boiler's performance keeps going down
Whether you want to repair your system or get an entirely new one, It's important to solve these problems quickly. Goff Heating and Air Conditioning's friendly boiler technicians can visit your home and help you chart out the right course of action. 
Financing For Your New Boiler
If money is the main reason you don't want to commit to a total boiler replacement, we get it. That's why we have teamed up with Wells Fargo​ to bring you a financing option that will help you bring warmth and comfort back to your Michiana home, subject to approved credit. At Goff, we never want finances to stand in your way of crucial and lifesaving warmth.  
GoffCare Maintenance for Your Furnace
Keep your new boiler system in tip-top shape and reduce your chances of needing emergency repair services with the GoffCare Maintenance Membership. With this membership, you will get twice-a-year service from one of our experienced HVAC professionals. During these visits, the technician will clean your HVAC system, inspect your HVAC system for issues, and make any necessary repairs. The ultimate goal is to save you money in the long-term and keep your family safe from the elements all year round.
Count on Goff for Boiler Installation Services in South Bend, Indiana
Boiler systems are a great option for your South Bend, Mishawaka, or Michiana area home. If you're looking to make the switch to a more energy-efficient heating system or want to replace your home's old boiler system, call the HVAC company South Bend area families have been trusting with their boiler installations and HVAC services for over 80 years! Contact us today.