Furnace Repair in South Bend, Indiana
If you rely on a furnace to keep your South Bend, Indiana home warm and comfy during the long winter months, you know just how frustrating it can be when it stops working properly. Goff Heating and Air Conditioning has served the Michiana area for over 80 years and has provided 24-hour peace of mind furnace repair service to our neighbors and customers throughout that time.
Our certified HVAC technicians have experience with all models of gas furnaces, and they can visit your home or business to assess and diagnose the problem. If your heating system is not performing to your expectations, give us a call for your furnace repair services in South Bend, Indiana.
For a FREE in-home consultation with one of our HVAC specialists or schedule an appointment online today!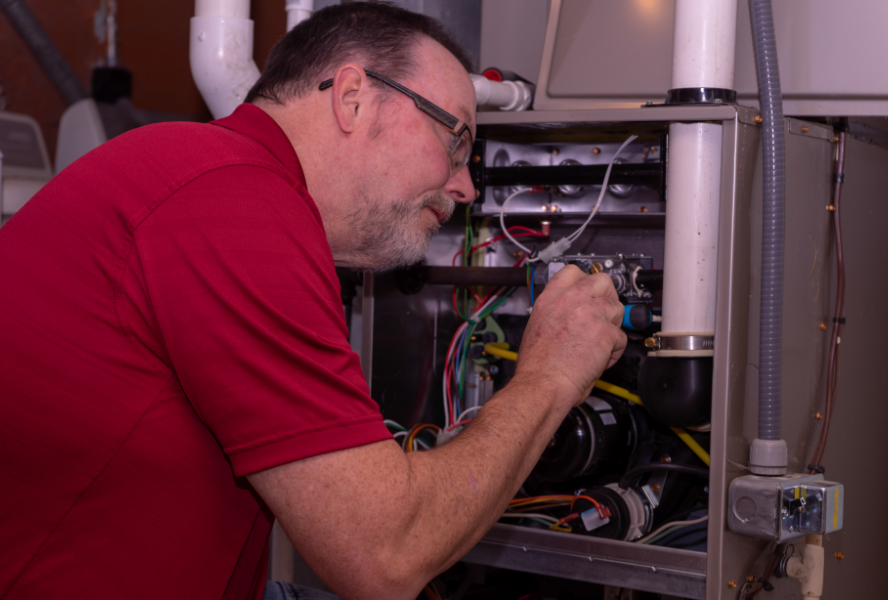 Signs that You Need Furnace Repair Services
Fortunately, in most cases, there are signs to look out for that indicate your furnace is in need of repair. Catching and fixing the problem early is essential to avoiding a more serious and expensive problem down the road. Here are some of the most common signs your furnace or heating system is in need of repair:
Strange Sounds
If you hear any harsh noises such as banging, rattling, or grinding, there could be a loose or broken part. Contact an HVAC technician right away to inspect the issue.
Short Cycling
Short cycling occurs when your furnace starts a cycle, shuts down quickly before reaching the set temperature, and starts back up again. Several problems can cause a furnace to short cycle, including a dirty or clogged furnace filter, an oversized furnace, or issues with your thermostat.
Increased Energy Bills 
If the already high energy bills of the winter months seem even higher than usual, it could be a broken furnace to blame. When furnaces become old and inefficient, they tend to stay on for longer periods of time, increasing their wear and tear and leading to high energy consumption.
Although the issue could be more minor in nature – a dirty furnace filter, an improperly calibrated thermostat, or leaky ducts, for example – it could also be a sign you're due for a furnace replacement in the near future.
Poor Airflow
Poor airflow or hot and cold spots in certain rooms can indicate furnace issues. There could be leaks in the ductwork or a dirty filter, or it may simply result from an inefficient or aging furnace. If you notice poor airflow, contact an HVAC technician to complete a full inspection of the heating system.
No Heat
Are you feeling cold air blow through your vents? Check your thermostat to see if it's set to "heat." If that's not the problem, check your furnace filter. If the filter is clogged and dirty, it will restrict the airflow from the furnace, making it seem like it's not producing any heat. It may even cause the unit to shut down completely to avoid overheating. If there's no heat, there may also be an issue with the pilot light on older furnaces or the electronic ignition on new units.
What To Check Before Scheduling Furnace Repair Services
Goff responds to a lot of "no heat" calls in the Michiana area. We're happy to come and help you, but you might want to check a few things first to see if you can restore heat yourself. If none of these tips work, call us for furnace repair services.
Circuit Breaker

–

Check your circuit breaker to make sure the circuit for the furnace isn't tripped.
Thermostat

–

Make sure that your thermostat is on, has fresh batteries if needed, and is in the "heat" position.
Air Filter

–

You should change your furnace's air filter every 90 days, or according to the manufacturer's recommendations. Dirty air filters can prevent air from flowing to the furnace. You can buy new furnace filters at your local hardware store.
Service Switch

–

Furnaces have a switch that turns them off and on. This switch may have been accidentally flipped, and that's why you have no heat in your home. 
Do You Need Emergency Furnace Repair Service?
If you weren't able to address these issues before they turned into a bigger problem, and you find yourself in need of a repair in the middle of the night, there's no need to worry. Goff's heating and cooling technicians are on-call 24/7 to assist you with emergency repair services.
Avoid emergency repair needs by becoming a GoffCare Maintenance Member. Your GoffCare Membership includes two tune-ups per year, 20% off replacement parts and labor, 24-hour priority service, and 30 day labor warranty.
Trust Goff With Your South Bend, Indiana Furnace Repair Services
Serving the South Bend area since 1937, Goff Heating and Air Conditioning has been built on a long-standing reputation of trust, experience, and quality service. We take pride in our work and strive to do our best for every customer that chooses us for ultimate home comfort and indoor air quality needs. Honesty and integrity are core values that we hold, so whether it is installing new equipment or servicing your existing furnace, our goal is complete customer satisfaction. Contact us today to schedule an appointment for furnace repair services.