When you think of air conditioning issues, you may envision a complete system breakdown that leaves you without cooling on a hot summer day. While that can certainly be the case at times, many units that are in need of repair still operate (albeit inefficiently) – they just need a little TLC to get them performing at peak efficiency again.
Unfortunately, many homeowners delay having their air conditioners fixed, hoping the issues will go away on their own. This never happens; in fact, problems will often get worse over time, leading to bigger and more expensive repairs. Contact Goff Heating & Air Conditioning at the first sign of trouble so we can provide your AC with a timely and accurate repair.
For AC repairs in South Bend, Granger, Mishawaka, IN, and the surrounding area, contact the NATE-certified heating and cooling technicians at Goff Heating & Air Conditioning today.
For a FREE in-home consultation with one of our HVAC specialists or schedule an appointment online today!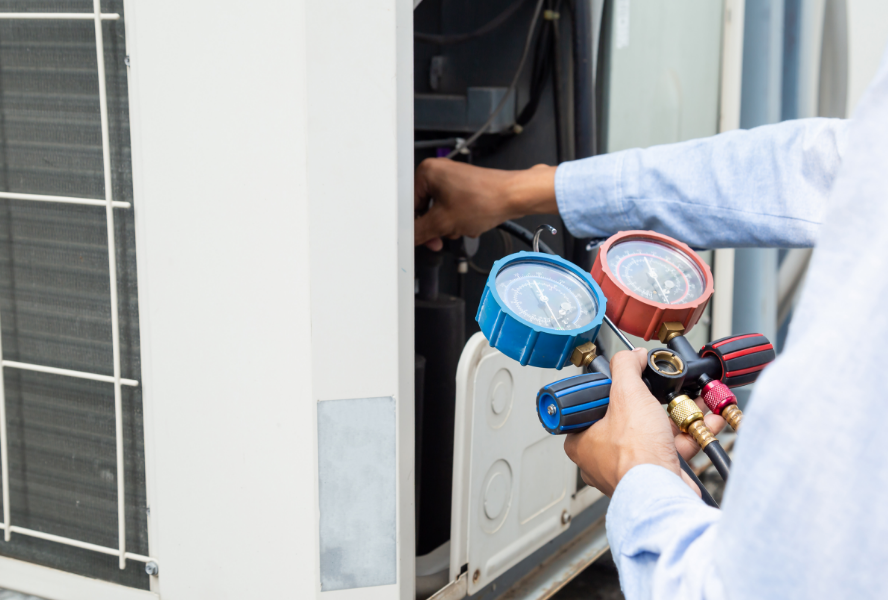 Signs You Need Air Conditioner Repair Service
A struggling air conditioning system will often exhibit signs that it is in need of repair; you just need to know what to look for.
Uneven Cooling
If one room in your home is nice and cool and the other is hot and stuffy, there could be a blower motor or ductwork issue with your air conditioner that needs to be inspected. Contact a trusted HVAC company to investigate the cause of hot and cold spots so they can make the appropriate repair.
Poor Airflow
If it seems like your air conditioner is running extra-long cycles to reach the desired temperature in your home, or there's weak airflow coming from your vents, the system is likely in need of repair. Before you contact an HVAC technician, check to see if the air filter is dirty and clogged. A clogged air filter can significantly reduce airflow. Other causes of poor airflow are dirty or frozen evaporator coils, refrigerant leaks, damaged motors or fans, or other issues that need to be addressed as soon as possible.
Hot Air Blowing Out
If hot air, instead of cold air, is blowing from your vents, your air conditioner isn't doing its job. First, make sure your thermostat is working properly and is set to "cool." If that's not the issue, contact an HVAC professional. Poor airflow, a clogged air filter, a frozen evaporator coil, or a refrigerant leak can cause your air conditioner to blow out hot air.
Loud Noises
Any loud or strange AC noises should immediately raise a red flag. Many loud noises such as clanking, loud scraping, or grinding noises signal a loose or broken part. A hissing sound, meanwhile, could indicate a refrigerant leak. Refrigerant is dangerous and should only be handled by a professional HVAC technician.
High Energy Bills
If you did a double-take on your recent energy bill because it was noticeably higher, it could be your air conditioning system's fault. An inefficient system or one that is in need of repair will have to work harder to reach the set temperature. This will increase its usage and cause your energy bills to spike.
Unpleasant Smells
If your South Bend, IN area home smells like a dirty sock or has a musty smell, your air conditioner could be to blame. A musty smell could indicate the presence of mold due to a water leak caused by a clogged condensate drain.
Should I Repair or Replace My Air Conditioner?
For most South Bend and Mishawaka, IN area homeowners, determining whether to repair or replace their air conditioner can be a difficult decision. Let Goff Heating & Air Conditioning help by having our technicians perform a complete inspection and evaluation of your current system. However, the following factors will help you decide whether repair or replacement is the best option.
Repair Your Air Conditioner If…
Your air conditioning system is less than 10 years old
It has needed very few repairs
You've stayed up to date on AC system maintenance
The repair is minor and affordable
Replace Your Air Conditioner If…
Your system is more than 10 years old
It's been repaired frequently
You've neglected maintenance
The repair needed is very expensive
Keep Your Air Conditioner Running Smoothly With Regular Maintenance
If you want to avoid untimely breakdowns in the heat of summer, consider investing in regular air conditioner maintenance. A tune-up each spring allows an HVAC technician to clean necessary components, change air filters, lubricate moving parts, and ensure the fan, compressor, and coil are operating as intended.
Contact Goff Heating & Air Conditioning to enroll in our GoffCare Maintenance Membership plan. As a member, you'll receive two HVAC maintenance visits a year from our team, one visit for your cooling system and one for your heating system. We'll even remind you when it's time for your maintenance appointment so you never forget! Our membership plan also comes with other perks including priority service, discounts, and much more! Reach out to Goff today to learn more about enrolling in our plan.
Contact Goff Heating & Air Conditioning for AC Repair in South Bend, IN
As a Factory Authorized Bryant Dealer, our goal is to help keep your family healthy, safe, and feeling comfortable year-round with a variety of home comfort equipment from the top manufacturers in the industry. Contact Goff today so we can customize a solution that's perfect for your South Bend, IN home and budget.