South Bend, Indiana Boiler Repair
Boilers remain one of the more energy-efficient heating systems on the market, and many South Bend and Michiana homes are equipped with one. Older, historic homes and newer homes without ductwork rely on boilers to provide comfort in everyday moments. As durable and trustworthy as boilers are, they take on the normal wear and tear of an HVAC system, and will eventually need repairs.
Goff Heating and Air Conditioning has been around since the 1930s, and our technicians have extensive experience providing a large suite of heating services, including boiler repair services, in South Bend and the surrounding area. If your boiler system stops working, give us a call as soon as possible.
For a FREE in-home consultation with one of our HVAC specialists or schedule an appointment online today!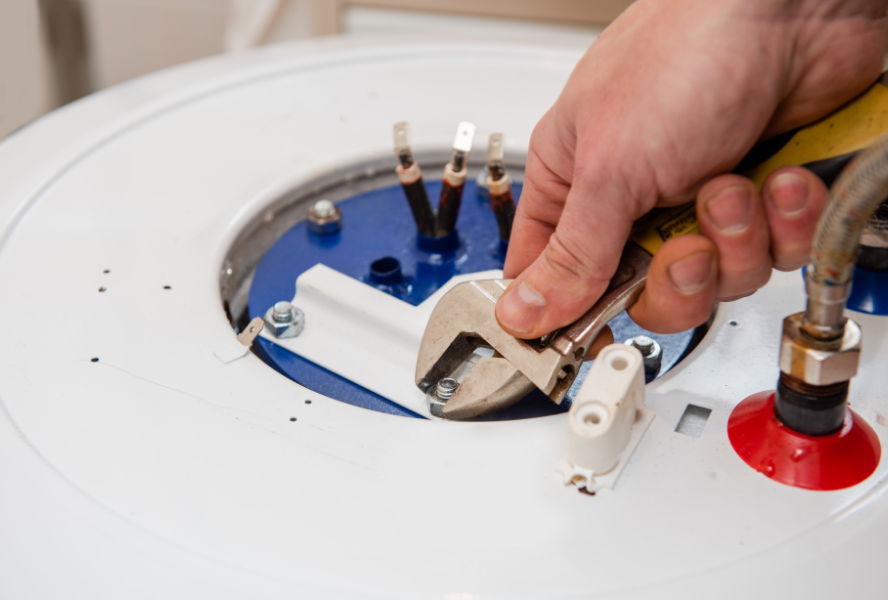 How Does a Boiler Work?
Boiler systems use a series of exchangers and electric pumps to push water through a heating system. The hot water produces steam heat which is transferred into the home's living areas through a series of vents or radiators placed throughout the home. If your boiler produces hot water, that water can also be stored and used later in your plumbing system for showers, baths, hand washing, and dishwashing. 
Signs that You Need Boiler Repair Services
Your boiler system will exhibit a set of telltale signs that it needs to be repaired. If you notice the following issues, call Goff for boiler repair services.
Uneven Temperatures
If one room seems warmer than the other, it's a sign that your boiler is not working correctly. Your boiler system is designed to keep up with your home's heating needs. So, if it can't produce the heat needed to keep the temperature steady throughout your home, you should call a professional HVAC company like Goff for boiler repair services.
Short Cycling
Short cycling is the term used to describe a heating system that turns on and off too frequently without reaching the set temperature in your home. This can be caused by a boiler that isn't the right size for the home it needs to heat, or a thermostat that needs to be calibrated. A short cycling heating system will also cause your energy costs to increase.
Leaks
If your boiler is leaking, the tank could be corroded and needs to be replaced. Leaks can also come from the valves of your boiler system. Either way, water that's not in your boiler system is a sign that something is wrong. Call a technician to determine what repairs are needed.
Gurgling Sounds
Gurgling sounds in a boiler could mean that air is trapped in the system or there is some sort of blockage. You may need to have the water removed from your radiator and replaced in order to clean the system.
How to Prevent Boiler Emergencies
If you can't catch issues before they become bigger, no sweat! Goff Heating and Air Conditioning offers 24/7 emergency heating repair services. To avoid emergency repairs, we recommend taking these preventative measures:
Schedule yearly maintenance –

You can book an appointment with us, or become a

GoffCare Maintenance member

and we will remind you when to schedule a tune-up. We'll come to check for leaks around your entire boiler, radiator, and pipelines, and make any necessary repairs.

Clean it often

– We recommend cleaning the condensate trap at least once a year. You'll also want the burner mesh cleaned as often as possible.

Replace critical parts

– This includes any gaskets that would wear out and cause leaks. Make sure you have your igniter, flame rods and heat exchanger examined.

Use water treatment

– This will prevent hard water scaling and will maintain your boiler's efficiency.

Calibrate the combustion

– Sometimes the combustion needs to be adjusted. You can use an analyzer to calibrate it.
Schedule Boiler Services With Goff Heating and Air Conditioning Today
With a full line of services for boiler heating systems, Goff Heating and Air Conditioning is the company to trust for quality and dependable heating and cooling care. We specialize in boiler systems and offer regular maintenance, tune up, repair, and new installation services for boilers. Contact us today to schedule your appointment in South Bend, Granger, Mishawaka, or the surrounding area.